May 2016
Kay Holst, our guest speaker this month, is one of the education spokespersons for the Western Districts Exhibit at the Sydney Royal Easter Show. Kay gave an extremely interesting talk on "Preparing for the Easter Show".
The exhibits are the end result of a year of hard work by agriculturalists, farmers and volunteers, who plan, source, collect, design and install the spectacular displays. More than 50,000 pieces of fresh fruit, vegetables, grains, pulses, wool and other produce are used to create the exhibits. Below are some of the exhibits from past years.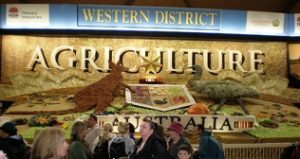 Show & Tell
Annie showed us her quilt which originally started out as friendship blocks.
Irene then presented a stunning quilt that she constructed using the Lakehouse Hydrangea range of fabrics.
Rosemary shared her zigzag crochet rug made from wool sourced from the Bendigo Woollen Mills.
Judy showed her quilt for a baby boy featuring sheep in paddocks. So cute.
Karen handed out the first lot of patterns for the Block of the Month. Thank you Karen.
The Cherrybrook Quilters exhibition is only 3 months away.