July 2016
At our meeting this month we were lucky to view the NSW Quilt Guild Challenge Suitcase display. The challenge was "fractured colours" and it was great to see how the theme was interpreted by each of the participants. Thank you to Lyn for organising and bringing this display.
Much laughter was heard from all of us as we flipped and folded strips of fabric into cute little Christmas star decorations. Annie and Lorraine went to a lot of effort to purchase and prepare Christmas fabric for this fun activity, thank you.
Karen presented the third month of the BOM. Members then showed their latest blocks. It is interesting how different the same pattern can look with different fabric choices.
Show and Tell
Lyn brought in a Wagga tha she made out of suit samples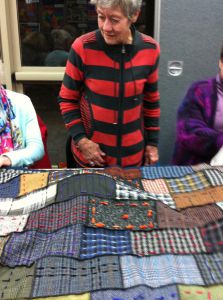 Judy showed us Carla's quilt in shades of rose and brown and Irene brought in her quilt in shades of gold.
Have fun sewing on the hanging sleeves on your quilts for the Quilt Exhibition next month.