November 2016
 Our guest speaker this month was Jan-Maree Ball OAM who founded Aussie Hero Quilts (and Laundry bags) in 2012. Since then she and volunteer quilters from around Australia have donated approximately 6500 quilts and 12,000 laundry bags to our troops (across all services) who are currently on active service.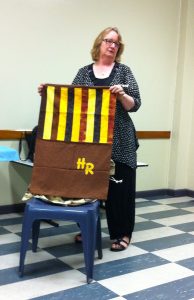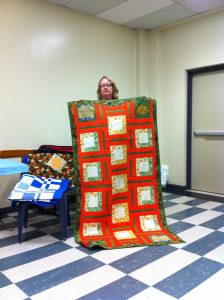 The quilts are a specific size (WOF x 70inches long) to accommodate the narrow bunks our troops sleep in.  This is also the perfect size for wrapping around their shoulders to keep warm on frosty nights in places where there is simply no heating. The laundry bags are individual so that the service personnel can distinguish their washing from everyone else.
Jan's talk was very inspiring and tugged at our emotions.
Show & Tell
Julie-Ann has been busy  – completing a lovely baby elephant quilt.
This was followed by inspection of everyone's BOM blocks.  We are seeing more people participating in this program now the exhibition is over.  Karen then unveiled the central medallion of our Cherrybrook BOM for us to work on over the Christmas break.  Karen has gone to an amazing effort to design and stay one month ahead with this project and we thank her very much.
Showcase a member
We then held our "Showcase a member" with Maria sharing her story. Maria is a very talented and inspirational sewer.