February 2017
Showcase a Member 
Thank you to Julie-Ann for your presentation of your quilting journey tonight.  Your quilting style certainly has evolved from soft pastels to bright wool applique.
Show & Tell – After the Christmas break, members had a lot to share.
Kim is busily working on her Sue Spago BOM.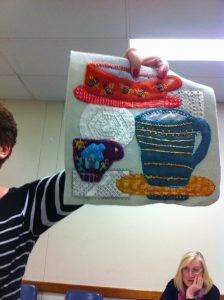 Jeanette brought along a lovely knitted knee rug, and also a Millefiore quilt that she is paper piecing.
Irene is decorating hexagons from Val's quilt.
Bronwyn had an exciting "tell" – a new little grandbaby is on the way!  Congratulations. 
Rosemary had lots of show & tell.  First she showed her Hardanger runner that she has been working on for the past year. She then told a heart-warming story about her dear friend and colleague, Mavis, Peacock who was mentioned in an article in Inspirations Magazine.  Next was a tiny smocked matinee jacket for a baby, and an heirloom baby smock. Finally Rosemary showed the lovely summer nightie she made for herself.
Suzie was busily crocheting an afghan rug.  
Lorraine brought along a beautiful Jim Thompson scarf.  Jim Thompson's design & production of scarfs, ties, & cushion covers has brought a reserection to the silk trade in Hong Kong. (Kim noted here that he is an American!)
Annie made a wheelchair bag for Gladys.
Flick brought along an intricate cross-stitched horse which had been given to a friend who does not sew.  
Finally Judy made a bright quilt for her grandson's BIG bed using a cheater panel from the shop.  
CQI Block of the Month
Several ladies brought along their completed blocks, and works in progress. It is wonderful to see more people participating in this program each month.