May 2017 – Ferndale retreat
In early May Cherrybrook Quilters had a weekend away at Ferndale Country Retreat, Lower Portland. The bushland setting was peaceful and comfortable and on the first morning we were greeted by goats that had escaped from the neighbouring property.
Most of our time was spent in the large conference room with sweeping views of Hawkesbury River. It was a relaxing long weekend where we talked, ate and completed our hand or machine sewing projects.
On Sunday Margaret Sampson-George drove to Ferndale and gave us an interesting talk about her quilting and designing journey.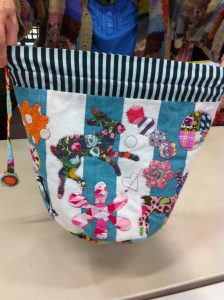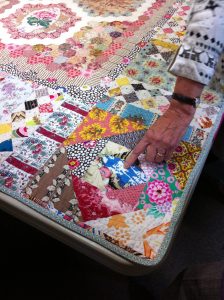 Margaret said to "choose any elements you love and alter them to suit your own purpose and explore your own creativity. Let quilts stray outside the boundaries of quilt correctness and make quilts that make you smile".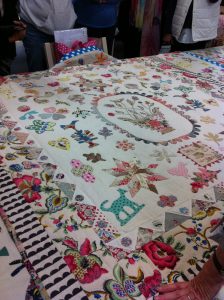 She loves the re-invention of old discarded quilt blocks. Simply sewing them together, surrounding them with beautiful fabric and using them in another quilt gives them reason for being.

Margaret said she takes her favourite designs, imagines them cut from contemporary fabrics and appliqued to traditional linens.