June 2017
It was wonderful to see so many members joining us on Wednesday evening for our "getting to know you" meeting as members sat & sewed, knitted & embroideries. There was certainly much laughter as we all tried to determine who belonged to each photograph.
Thank you everyone for sharing some interesting facts about yourselves – and teasing us with a few not so true facts.  We all had fun trying to determine which was statement (or story) was the odd one out.
Showcase a member
Elsa then showcased her quilting journey from early quilts constructed in Ann Sneddon's garage studio in Arcadia (where a few of us started) to her latest exquisite creations with Karen Cunningham in the Glenbrook Post Office studio.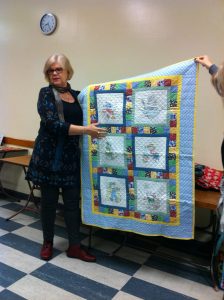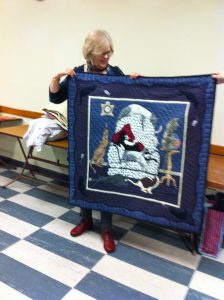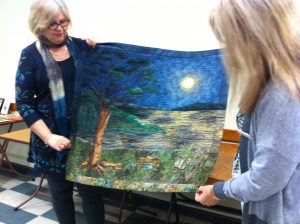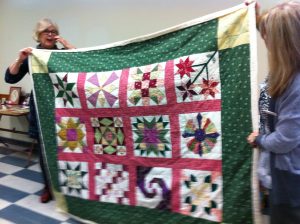 Show & Tell
Jeanette brought along her knitting and also some mini quilts to show.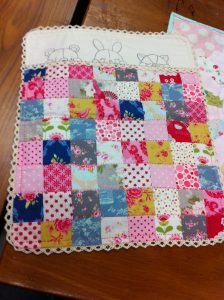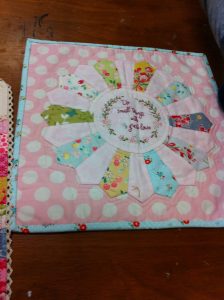 Our newest member, Robyn, shared two lovely quilts – one in pretty spring colours and the other with perfectly executed reproduction blocks.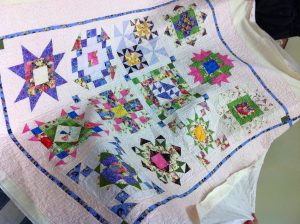 Annie has been busy making a biker jacket for "Big Ted" her husband's teddy bear mascot on his latest biking adventures.
Suzie H is knitting an epic scarf.
Rosemary brought in a couple of Wendy Williams inspired projects – s scissor keep & pin cushion.