July 2017
Our guest speaker for the evening, Chris Jurd gave a presentation of her quilts & encouraged us all to join Quilt NSW. Chris, from the Blue Mountains, is an inspiring quilt teacher, pattern designer & quilt maker for the past 30 years. Her quilts are intricate and all have the "WOW" factor. Foundation Piecing is her favourite technique and figures in her work.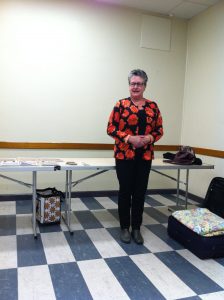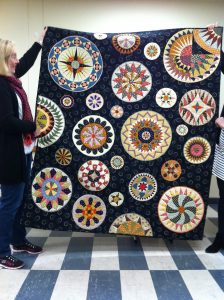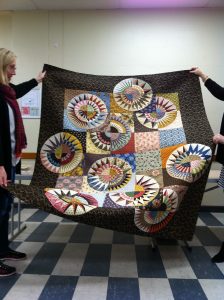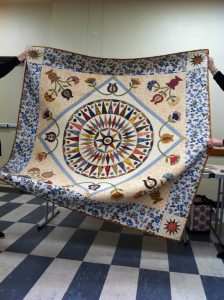 Show & Tell
Judith made a felted wool hanging for her daughter Jill.  The wool came from Jill's favourite alpaca, Sudoku, and was felted then beautifully embroidered.  Judith once again showed her wicked sense of humour as she explained that the beautiful embroidered flowers were in fact her interpretation of the "weeds" growing in the paddocks; purple Patterson's Curse and yellow sunflowers etc. It was a very beautiful piece.
Annie had two quilts to share.  The first was a young girls quilt that her niece had made from a panel and asked Annie to bind, and the second a boys dinosaur quilt that also required binding.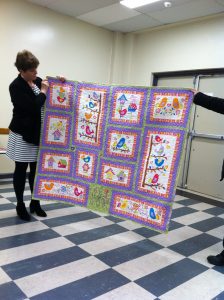 Kim made excellent progress completing two more blocks in her Sue Spago BOM. As always, these were magnificently embellished.
Lynne brought along a quilt designed by Leonie Bateman of Essence of Cloth in Tasmania which was made for her son, David and daughter in law Monique when they got married on the following Saturday. The centre is wool applique, with pieced & applique borders.