February 2018
It was lovely to see so many members come out on a hot summer's evening and join us for our first meeting of the year.
Most members brought along "treasures" to swap and there was much discussion as we sorted through the goodies on display.  Thank you everyone who participated in this fun activity.
Show & Tell
There were a lot of  members who had been busily finishing off projects over the Christmas break.
Annie started the ball rolling with a small plastic container from which she brought out several lovely projects.
– a Pig pin cushion (which I believe was designed by Annie Downs from Hatched & Patched)
– a Snowman Christmas Decoration
– a set of three Christmas decoration (Santa, Snowman & Pudding)
– and finally a beautiful Christmas cross stitched mini hanging.
Rosemary followed with her bottomless bag of goodies. She had found some beautiful antique embroideries which she refashioned to find new life.
– First was a thread catcher (a small new year project for her students)
– a sandwich tray liner became a lavender bag
– an embroidered runner found life as a hand towel trim
– a small circular mat became a needle case
– a simple striped apron was given a pretty doily pocket feature
– a nightie was given a beautiful heirloom panel across the yolk
– and finally a pretty scarf Rosemary had bought that was too long for her tiny frame found new life as an infinity scarf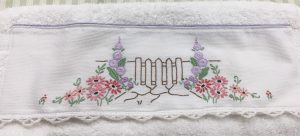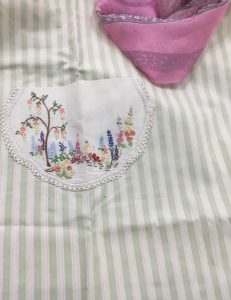 Cheridan then showed us her lovely baby quilt.  It is a pattern called "Crazy Zoo" each block had 100+ pieces of applique.
Lyn then displayed her "Crosses & Crowns" quilt that she had made to raffle off for a Charity that supports grandparents raising their grandchildren.  It was beautifully quilted by Sue O.
And finally Jill brought along her work in progress from the Carolyn Pearce workshop and shared her experience from the workshop – praising Carolyn for the way this was presented.
Marjorie Horwood  Quilts
We had three beautiful quilts entered for this annual award.  All different and all beautiful.  It was certainly a difficult job to vote for only one and the result was very close.
The first quilt entered was from Janice who brought a perfectly pieced traditional quilt.
Bronwyn entered an exquisitely embroidered pastel quilt featuring embroidery in each block.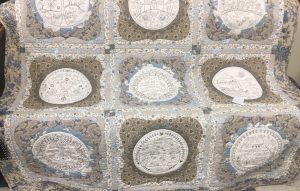 Kim entered a colourful and beautifully embellished Sue Spargo quilt.
(There is no image available at this stage as there is an embargo until  the pattern is published)