March 2018
Annual General Meeting
Karen thanked Kim for her leadership as convenor for the past 12 months and presented her with an arrangement of flowers.
Presentation of Marjorie Horwood Award
Lynne presented the Trophy to Kim and congratulated her on her beautiful work.
Show & Tell  
Jill very proudly showed us her very first effort at needleturn.  Well done Jill!
Maria is knitting a beautiful mohair cardigan in the greens & greys of the Australian bush colours.
Anne once again proved to us that she is "Nearly Insane" as she showcased her past year's work from the pattern of the same name.  Totally hand pieced, some of these blocks have literally hundreds of pieces in them. To add to her insanity (in her words), she has designed a pieced border to compliment the quilt.  We all look forward to seeing this masterpiece when it is completed.
Bronwyn brought along a lovely small bag with a foundation pieced feature block on the front.  
Rosemary showed a beautiful liberty dress with back-smocking on the back and  a beautifully smocked front that is a work in progress. Rosemary also showed a baby's nightgown that had been started by Margaret with beautiful bullion roses down the front. Rosemary had completed the project for Margaret.
Lorraine brought along crocheted granny squares which she is making.
Annie brought along a beautiful beaded embroidery. She also made a lovely table centrepiece of a miniature elephant mobile and matching bunting for one of the teachers at Annie's school for her baby shower.
Julie-Ann made a purse for her sewing notions and matching pin cushion using muted Japanese fabrics. 
Kim brought along her sewing work case with a block from her latest Sue Spargo quilt on the front. Kim explained that Sue includes a special project when you sign up for her BOM program and this was the project to go with last years' quilt.  She then showed us her blocks from her Sue Spargo quilt that she is completing this year. Fun, bright and perfectly stitched as usual.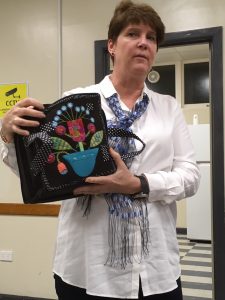 2016 challenge quilts.
Lorraine's challenge was to complete the Cherrybrook BOM that Karen brought to us over the previous 18 months. Members were asked to bring in their completed projects (or works in progress). 
Margaret Goldman was first with her version in pastel teal & beige tones.
Julie-Ann then displayed her work in progress – a very bright version with wool applique complimented by Kaffe piecing.
Janice chose rose, teal & beige tones for her quilt.
Karen's quilt was completed in reproduction fabrics from the same collection.  She completed the quilt with a stunning pieced border.
Lynne's quilt was done in pastel pinks & blues.
Susie brought along her work in progress – lime & navy are her colours of choice.
The completed quilts; Margaret, Janice, Karen & Lynne were all machine quilted by Sue Olma.