December 2018
Thank you Pam for hosting our Christmas Party at your home, we all had a wonderful night. There was lots of fun, fellowship and finger food.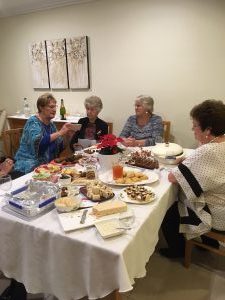 Once again we participated in our annual Christmas handmade gift exchange. Sue organised a special activity to aid with the fun of the present swap.
Marjorie Horwood  Award for Quilting Excellence
We had three beautiful quilts entered for this annual award.  All different and all beautiful.  It was certainly a difficult job to vote for only one and the result was very close.
Congratulations to Lynne! 
Margaret Goldman Award for Excellence in Needlework
Several members brought along beautiful embroidered needlework. All different styles.
Congratulations to Julie-Ann!