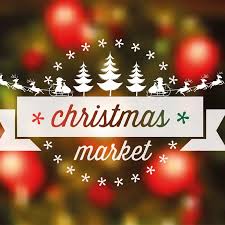 May 2019
Viive Howell gave us a presentation on the Bill Walsh Translational Cancer Research Laboratory which is the research arm of the Medical Oncology Department at Royal North Shore Hospital.
It is  part of the Hormones and Cancer Division of the Kolling Institute of Medical Research which is affiliated with Sydney Medical School at the University of Sydney and is a member of the Cancer Institute NSW.
They focus on increasing understanding of cancer biology, identifying better ways to diagnose and predict how a cancer will behave, and improving cancer treatment for better outcomes for cancer patients.
We will be making a donation to the Bill Walsh Translational Cancer Research Laboratory from our 2019 exhibition takings .
Cherrybrook Quilters Inc. 2019 quilt exhibition and Christmas market progress
Plans are well underway for our quilt exhibition. The venue is booked and the quilt frames are ordered. The raffle quilt has been designed by Anne Curry and the material has been purchased.  A group quilt making workshop will be organised soon. Everyone is working on their own quilts to exhibit.
We are also busy making items to sell at the Christmas market. Some of the things being made are Christmas decorations, various styles of  bags, children's fabric books, dog mattresses, luggage tags, aprons, zippered pouches, playing card holders for kids and many other items being completed each week. Thank you everyone for your hard work and enthusiasm.
Show & tell
Janice showed her beautiful, blue Christmas decoration.
Kim presented her quilt top made at Ferndale for her friend's grandson.
One of our newest members Roslyn, is working on her 'teapot' table runner.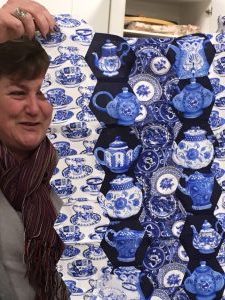 Jill completed three small dog mattresses stuffed with alpaca fiber.
Bronwyn has finally completed her hexagon quilt and Sue has beautifully quilted it.
Cheridan showed us her machine embroidered quilt top.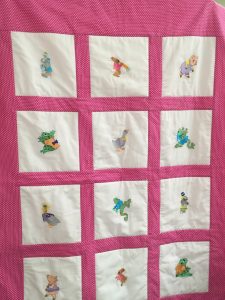 Maria is working on her knitting making a jumper just in time for Sydney's cooler temperatures.
Pamela made a simple draw string pouch at Ferndale.
Julie-Ann worked on her Sue Cody quilt at Ferndale – one of sixteen blocks.
Remember only 6.5 months to go till our quilt exhibition and Christmas market.