June 2019
Our guest speaker this month was Denise Warren (former teacher at UTS, weaver and quilter), she presented a PowerPoint presentation on Colour Theory.
Denise explained that colour theory plays an essential part in any quilt design, choosing a colour scheme that works for a quilt to prevent a muddy colour or boring results. Using colours that work together in a design can enable you to achieve a harmonious result. Some colours pop and others recede or emphasise or unify a block pattern. Backgrounds that work well, rather than compete.  This is all done using the colour wheel.
Denise discussed monochromatic (using shades of one colour only), analogous (colours next to each other on colour wheel), complementary (colours on opposite side of colour wheel), triadic ( eg. yellow, blue and red), warm & cool, light and dark schemes.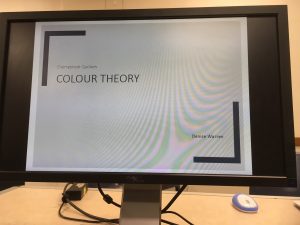 Denise displayed her Sashiko embroidered jacket and woven scarves.
Thank you Denise for donating the book  'Colour Harmony for quilts'.
Show & Tell
Jill completed a community quilt using flannelette fabric and the beginnings of a paper pieced block.
Irene made a tea towel angel using a wooden spoon and decorative hand towels.
Bronwyn made a 12 inch mini quilt (this is a representation of Marjorie Horwood's work) to be include in our CQI quilt exhibition in November.
Rosemary has been very productive making Christmas gift bags, fabric tissue cover, book cover with beautiful embroidered doily and sunglasses case. Just some of the items for our Christmas market at the CQI quilt exhibition.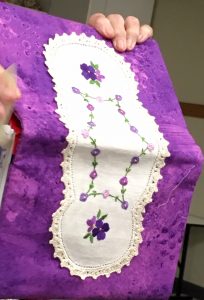 Judith was given a challenge by her weaving group to knit a 'Icelandic themed' jumper and 'Scottish themed' blanket and a colourful shawl.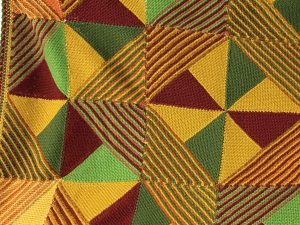 Heather completed two colourful quilts.
Annie made a cute collapsible thread catcher.
A reminder that it is only 5 1/2 months till our Quilt exhibition.