August 2019
Rosemary presented a candlewick workshop where we made a beautiful lavender sachet which she designed.
This was well supported, enjoyable and professionally presented. Kits were fantastic.
Show & tell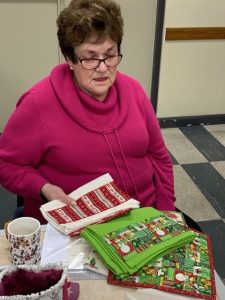 Quilt Exhibition 2019
A sneak peek of the amazing raffle quilt for our 2019 quilt exhibition.  A huge thank you to Anne & Karen for designing the quilt, purchasing the fabrics and cutting the packs ready to be foundation pieced, to Sue Olma for quilting the quilt and to Annie for the binding. Thank you also to those members who came along to the Saturday Sewing workshops to complete the quilt top.
This is one of the miniature quilts made by past and present CQI members to represent themselves or their quilting style to be on show at the exhibition.
Remember only 3.5 months to go till our quilt exhibition and Christmas market.