November 2019 Quilt Exhibition
CHERRYBROOK QUILTERS INC. QUILT EXHIBITION 2019
A snap shot of our 2019 quilt exhibition. For more details go to the top of the page and click on the Quilt exhibition heading.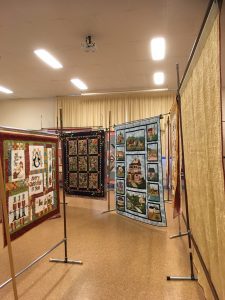 Mini quilts made by past and present members.

Congratulations to Karen – winner of the viewers choice with her magnificent quilt at the top of this post.
Thank you to all the helpers leading up to and at the quilt exhibition.
Cherry Pie and Quiltsmith with their shops at the quilt show. Thank you for your support.