February 2020
It was lovely to see so many members come and join us for our first meeting of the year. This was our annual "your trash is my treasure" and sit and sew evening. Most members brought along "treasures" to swap.  Thank you everyone who participated in this fun activity.
Our convenor Sue presented a cheque for $7,000.00 to Viive Howell the Research Director of the Bill Walsh Cancer Research Laboratory. This money was raised from proceeds of our 2019 Quilt Exhibition. Viive will use the money where she feels it will be best utilised towards less funded cancer research projects. She also talked about the Women in Science day 2020 which highlighted some of her researchers.
Show & Tell
There were a lot of  members who had been busily finishing off projects over the Christmas break.
Anne made this delightful eclectic zip pouch. And a work in progress embroidery on linen.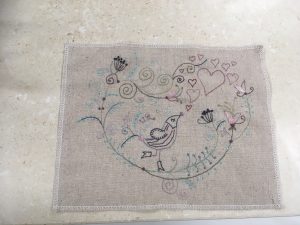 A pouch being knitted for a lucky wallaby.
Rosemary made these colourful garments.
Dawn made this Japanese folded and woven handbag for a friend.
Bronwyn made these very practical aprons from tea towels with an added bodice and cross over straps.
Annie made cushions for her new outdoor verandah. Annie's daughter completed an embroidery and gave it to her for Christmas.
Louise (Loo) a new member to our group talked about her sewing journey and explained that she hand sews and hand quilts all her quilts taking up to a year for each one because of her background doing embroidery. Loo showed us her current work in progress.
.