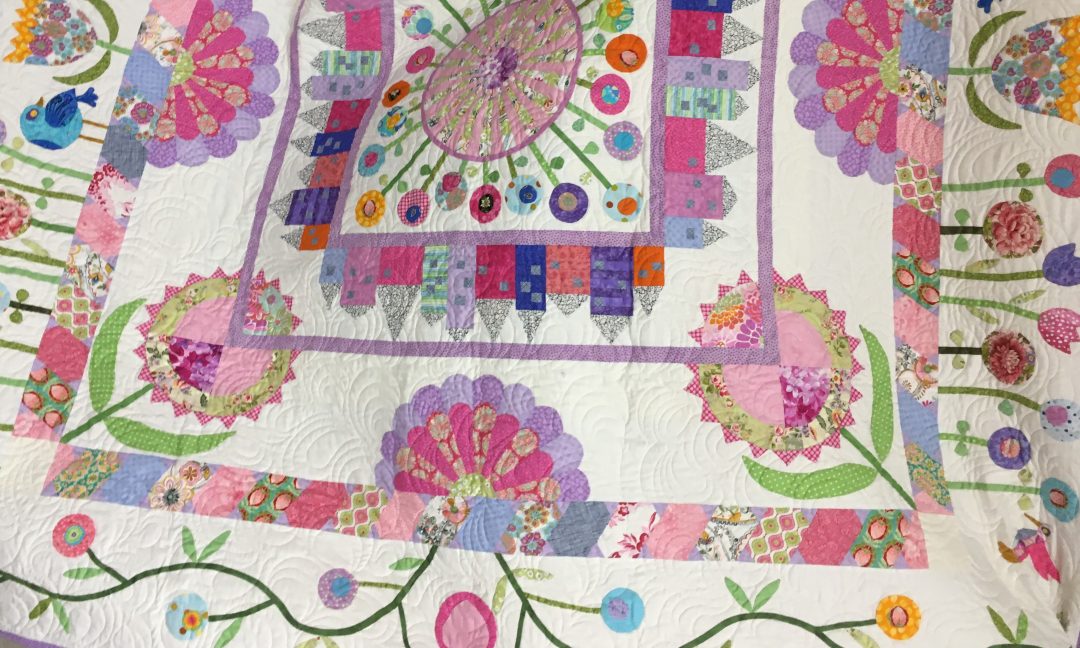 March 2020
Annual General Meeting
Karen and Kim thanked Sue for her leadership as convenor for the past 12 months and presented her with a flower arrangement.
The new Convenor, Kim, welcomed her committee,  a mix of new and longer serving members.
The committee has planned and organised an interesting and diverse program for 2020 with lots of activities including:
workshops,
sit and sew,
guest speakers,
social dining out and shop visit
Kim presented the Marjorie Horwood award to Karen
and the Margaret Goldman award to Bronwyn.
Sue went over the guidelines for the Convenor's challenge for 2019/20 and invited members to share their projects.
On the last weekend of February some members of CQI made a quilt for a family caught up in the bush fires around Bowral.
Viive Howell the Research Director of the Bill Walsh Cancer Research Laboratory advised us that the $7000 raised from proceeds of our 2019 Quilt Exhibition contributed towards the purchase of a 'Cell Analyzer' machine. The machine will be utilised for all their  cancer research projects.
Show & Tell
Lynne showed us a cute machine appliqued 'Little Macca's Farm' quilt she made for her new niece.
Irene discovered a UFO in her cupboard. She is enjoying the meditative process of  hand stitching and embroidery. This is one hexagon from the Wild & Woolly pattern by Val Moore. Looking forward to seeing the finished table runner.
Bronwyn brought in a quilt her friend made to practice her machine quilting. She has donated the quilt to Westmead Hospital.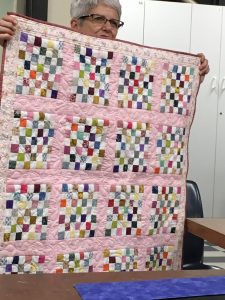 Jan completed a colourful Sarah Fielke designed 'Down the Rabbit Hole' quilt for her daughter. Absolutely stunning.
Rosemary is in the process of crocheting a blanket.
Sue showed us a disappearing nine patch quilt she made for her sister in her favourite colour blue.