July 2020
We had not met since the AGM in March, 4 months ago due to Covid19 restrictions. We had guidelines in place for the meeting and with the small numbers it was easy to satisfy requirements. None the less we enjoyed the meeting.
Show and Tell was our highlight.  Since we had been socially isolating everyone had been busy completing projects some big, some small.
Sue P had "receiving blankets" that make a great gift for new babies. She has a simple pattern that she is happy to share. Also matching burp cloths from the left overs. Also a " fiddle/ twiddle muff" originally designed for dementia sufferers but actually a warm, woollen knitted muff good for many early morning soccer games (my suggestion!) Keeps hands warm but accessible.
Bronwyn had been busy with many different projects including a French general fabric bag with bird pattern, a cross stitch pillow, Dawns heart xmas decoration, a completed tamari ball from Jeanettes workshop and a completed lavender satchet from Rosemary's workshop. Also a red raw edge needlecase from a Val Moore pattern. That is what I call achieving!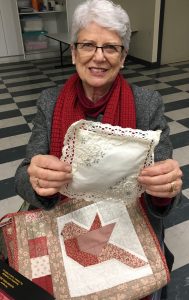 Kim stunned us all with her spectacular Sue Spargo houses wallhanging. She had put together many of the blocks, which had a lot of embroidery detail in each one. We loved the asymmetrical block placement.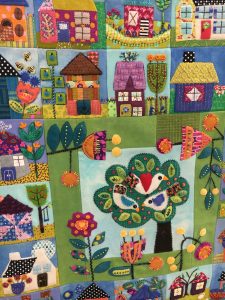 Annie has had an injury at work and broken the tip of her finger which is now in a splint. She has managed to complete Dawn's heart workshop project and her 12"personal block for our collection and I would encourage anyone else to do the same.
Janice has been doing lots of knitting, which most of CQI members enjoy as another skill usually practised in winter.
Dawn has been busy getting her house ready for major renovations but has still managed to do some knitting, a scarf with some beautiful alpaca wool, a French themed bag and is working on 3 other quilts.
Karen has had laser surgery and is still recovering from this as it didn't quite go to plan. She is experiencing floaters and flashes. She has managed to do some knitting, smocked bibs and made herself a beautiful lined jacket.
Sue showed 2 quilts completed for The Castle Hill Women's Refuge making a total of 4 ready to go. Thanks to everyone who participated in the block making or donated a quilt top. The stretched star quilt is ready to be put together at Ferndale.