February 2021
The year started off with a big night of 'Trash and Treasure' and The Annual 'Marjorie Horwood' and 'Margaret Goldman' Awards. The Trash and Treasure had some successful exchanges.  Thank you to all.
CONGRATULATIONS!!
The Marjorie Horwood Award was won by Karen Matthews and the Margaret Goldman Award was won by Bronwyn Goldsmith. Individual trophies donated by Dawn and will be presented at next meeting.
Show & Tell
Karen made another block for her Caswell quilt – 36 in total to be made
Kim made the first of twelve rounds to go into her "Welcome Home" wall hanging by Shabby Fabrics.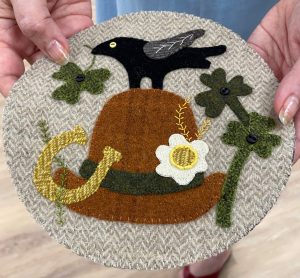 Kim showed us the first four of twelve Shabby Fabric's Little Blessings series mini wall hangings.
A close up look at Kim's completed Sue Spargo Houses block of the month quilt. Amazing detail.
Community quilt donated by Jeanette.