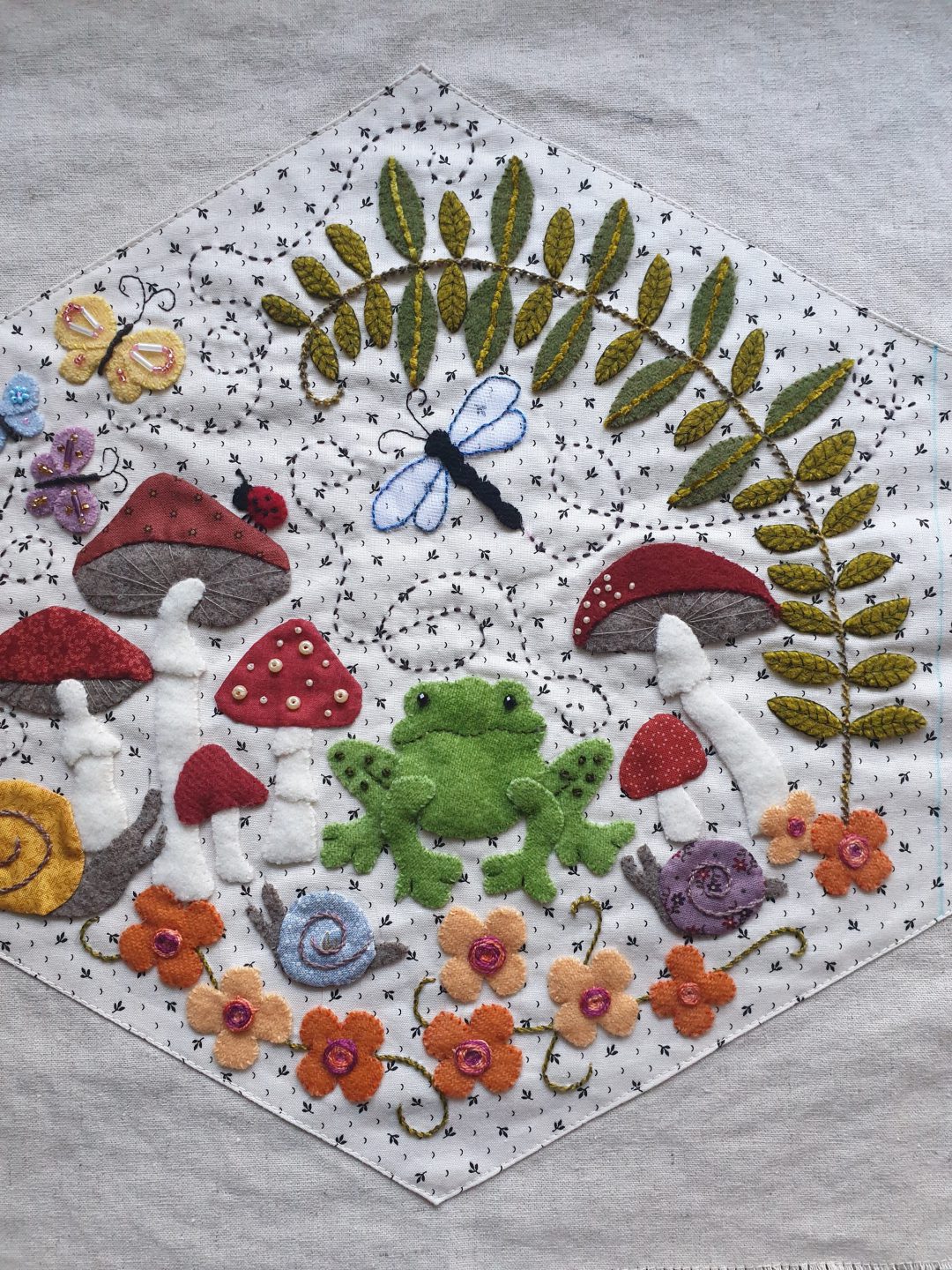 July 2021
It is a challenging time for all of us: and everyone has a different experience of lockdown.
Sue our convenor requested that CQI members email in photos of their works in progress:
Show & tell
Kim completed another block of her Woodland Whimsey BOM quilt by Under the Garden Moon. The star of this month's block is a cute little green frog sitting under mushroom caps.  Kim's stitching is exquisite, and you should pay particular attention to the embellishment on the butterfly wings.
Sue O has been very busy completing her own projects and community quilts.
COVID quilt from last year with drawings from her 7 grandchildren with things they did in lockdown last year.
Also a quilt centre of bear paw blocks given to Sue by Rosemary that she added borders to and it turned out great. (Community Quilt).
"A quilt given to CQI one night. A lady knocked at the door and handed us a quilt she had won (made by Fiona Gavin's) and after years of use she was going to send it off to Vinnie's. It was a bit worse for wear so I decided to remake it. I did not really take in that it was quilt as you go until I had cut off the binding and started to pick it apart. Some blocks were unsalvageable but I resized and remade enough to make the quilt look good. I re-quilted and rebound and I think it turned out well enough for a nostalgic (maybe antique depending on your definition) quilt for the women's refuge. I like it so I am sure someone else will too."
Also a couple of beautiful knitted items from Judith
Jill has sent this photo of the quilt top that she was working on at the retreat.  The centre is now finished and Jill is working on adding some borders to make the quilt larger.
When we think of tiny pieces of fabrics intricately stitched together (usually in an original pattern) we immediately think of our lovely Anne.
Anne is quite excited as she has a new cutting table with a hydraulic lift.
Anne has also completed some EPP Bethlehem star blocks.  As you can imagine, the colour combinations and workmanship are sublime.