July 2022
The 2021 "Marjorie Horwood Award for Quilting Excellence" was presented to Karen Matthews for her beautiful interpretation of the Caswell Quilt.
Judith ran a fabric painting workshop at our meeting this month. It is always great to learn a new technique.
Loraine and Lynne show their wonderful samples, using fabric paint and fabric crayons.
Annie brought in samples she had previously painted and embroidered.
Show & tell
Judith showed us her work in progress – a "quilt as you go" quilt.
Jill presented a quilt and blocks she began at the quilt retreat.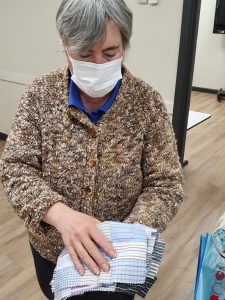 Annie made seven more denim bags and said she used 250 metre of navy thread so far. These bags were made from Judith's stash and used jean scrapes for decorations.
Annie also finished off the Christmas cushion she began at the quilt retreat.
Sue showed us an embroidery Rosemary had completed years ago and gave to Sue last week who then painstakingly attached it to a bag. Sue also showed us the almost finished t-shirt quilt that Carmel started at the quilt retreat, just binding to go.