June 2023
What a night! There was so much going on from the tunnel closure which delayed many of us, to the AGM, the elections, the Trash and Treasure and a great Show and Tell! And we still finished on time!
Annual General Meeting
Convenor's Report was read out by Sue Pilgrim. Sue Pilgrim was given a Chip'n'Dale teapot as a
thankyou for her service.
Treasurers Report given by Karen Matthews. Karen was given a gift of a scarf for her many years of service as Treasurer.
Congratulations to Viive as she was elected as the new Convenor.
Show & Tell
Lynne was very busy making a project folder and project bags along with a sewing organiser.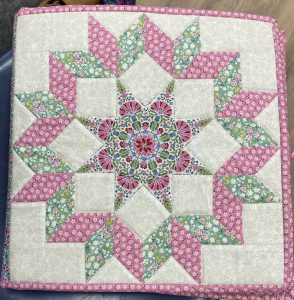 Sue O knitted a beanie.
Julie-Ann showed a 'work in progress' – Sue Spargo's 20th Anniversary stitch along 'Wildflower Garden".
Community quilts