July 2023 The Collaroy Centre retreat
Our retreat this year was held at The Collaroy Centre. A very positive response to the venue. The accommodation was excellent, the sewing room very suitable with lots of room and the venue itself situated in a very beautiful beachside surround. Many members went for walks and rose for the sunrise. The food was plain but tasty and all dietary needs were expertly handled.
Karen did a marvellous job as liaison person and chief organiser. The wonderful social atmosphere and the ability to achieve as much as you wanted made the 3 days/nights a big success. The only negative was no common seating lounge area, but the weather enabled us to have morning/afternoon tea outside if desired and the size of the room meant we did a lot of socialising at each other's tables.
Show & Tell
Christine: working on a "Shabby Chic" purple rose quilt in a style Kim showed
one meeting.

Sue P: Completed one modern baby quilt top in pink from her favourite
pattern book. She also worked on "Letters to my Daughter" quilt in Tilda
fabrics. A few stitcheries and hexagons still to add. It was a homespun block of
the Month.
Janice: According to her she did a lot of reverse sewing! But we saw her do a
lot of knitting for her great grandson Obi, and she did some good shopping
during a sojourn to "Patchwork on Pittwater".
Lynne: Did some EPP and worked on some long-term projects.

Julie-Ann: Worked Summer Village Quilt by Laundry Basket Quilts.

Judith: Placemats completed and working on her freehand machine quilting.

Jill: Interpretations of Japanese Sashiko into piecing patterns. Interesting
results including picket fences, pomegranate blossom and fish scales.

Karen: Spent her time prepping for quilts at home. Making circles, stems and
some templates.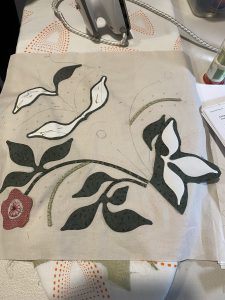 Roslyn: the "project queen" finished off a lot of UFOs, including a felt bag, a
teapot runner, a Sashiko embroidery coaster in light colours and another piece
of Sashiko in orange and greens. Also, a baby quilt in varying fabrics and was
working on a felt pincushion made of embroidered segments.

Annie: Worked hard on 3 community quilt tops, fully completing 2 and on her
way to the third!
Carmel: Made a super speedy Xmas table runner, and a Door stop for Grand-
daughter Lorelai's bedroom. She completed the "easy Bag" that was not easy
and spent the rest of her time knitting a very complicated scarf for Sue O and
working on a Sashiko embroidery bag panel.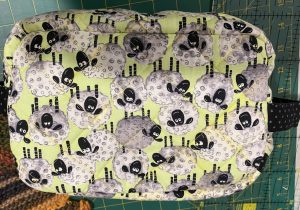 Helen: Worked on her Jagged X quilt. Completely cut out and sewed 29 blocks!
It was looking very pretty made from a Tilda fabric jelly roll.

Viive: Fully completed a gentle sailboat quilt out of Japanese cottons and had
time to work on the borders of a dramatic outer space panel quilt for her
grandson, William's new bedroom.

Sue O: Had a mission to complete 5 small t-shirt quilts. Achieved this and
moved on to a baby mint and white forest animal baby quilt top.
As you can see a VERY productive weekend and we still had time to duck out
for coffee or a walk down to the beach or visit the Patchwork on Pittwater 10
minutes by car for a bit of retail therapy.