March 2019
What a wonderful turnout we had with the majority of our members attending and renewing their membership for the next 12 months!
Annual General Meeting
Sue gave her convener's report highlighting the activities and achievements of the year, and Karen presented the treasurer's report. The meeting was then handed over to the Public Officer (Sue) for the election of the 2019 committee.
Karen presented flowers to Sue to thank her for her hard work and leadership as Convenor for the past 12 months.
Convener's challenge for 2019.  Sue, in collaboration with Bronwyn, has come up with the idea that each member make up a mini quilt (12″ square) to best represent yourself & how members in the Cherrybrook Quilters Inc will best remember you and your style. We will display these for the first time at our 2019 quilt exhibition, and they will be kept as a history of our club and the members who not only shared our meetings, but became our friends and quilting family.
Kim's 2018 Convener's Challenge
Kim's challenge was to produce a quilt or project with the colour PINK in it in remembrance of a friend or loved one who has been diagnosed with breast cancer.
It was a sea of pink last night as we all dressed in PINK for Kim, and brought in our convener's challenge projects. Below are these challenge projects that were made by our talented members.
Kim
Lynne
Julie-Ann
Annie
Bronwyn
Rosemary
Flick
Jill
Judith
Sue
Karen
Show & tell
Dawn presented her Margaret Sampson-George inspired bag. She said it was completely different to what she usually does and was out of her comfort zone, but we all agreed it turned out beautifully.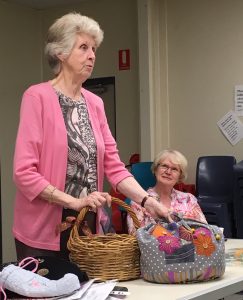 Lynne finished the second 'big boy's quilt' for her 3 year old grandson. He will be thrilled.
Liz showed us her work in progress. This is one panel of many to come.
Flick is working on her crochet – she is not sure what she will turn it into yet.
Heather produced a wonderful tonal quilt.
Sue just finished quilting a darling quilt for Chloe and a panel quilt.
Community Quilts
Judith
2019 Quilt Exhibition – 8.5 months to go, so get those busy fingers working and those sewing machines humming!